Niels van Hoorn
The 60's
1961: started flute lessons at the age of 10 and then became a soloist in a youth orchestra.
1966: bought his first saxophone in a second-hand store in Antwerp, Belgium. Taught himself by playing along to records.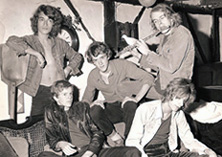 1967: joined his first band, Dreaming Mary. After a number of changes, this band became Plastic Magazine - which then joined forces with 'Feet' to become 'Plastic Feet'. Plastic Feet enjoyed its first big success when it played for 20,000 people at the Joint Meeting Festival at the EisSport and EventPark in Düsseldorf in 1970 - where other bands like Amon Düül II, Ginger Baker's Air Force and Humble Pie played.
During this period, Niels is influenced by bands such as Jethro Tull and Traffic - and because of them, starts playing the flute.
Liberty
The 70's
1970: Niels was asked to be in a band called Liberty. Their first single was called Hey Man and it came out on EMI/Negram Records .
1973: meets Hans Meijer, musician and sound engineer. He introduces him to electronic music. And because of this, Niels ends up studying Sonology at the University of Utrecht. Along with flute and saxophone, he starts playing the EMS VCS 3 synthesizer. He is asked to join the band, Capella, and later, the theater rock band, Fruit.
In 1977 Niels begins building the Klaverland Studio and with fellow student Peter Veenman, began making compositions for films by Frans Zwartjes and George Schoten.
He becomes a member of the S.E.M. ensemble at the castle 'Hof ter Beke' in Wilrijk, Belgium. This was a group for modern, electronic and experimental music that played concerts as well as for the Belgium Radio Station.
The 80's
Niels is the saxophonist in the anarchist street orchestra, Horen en Zien.
He meets guitarist Bob Pistoor, who becomes his best friend. Together they form an improvisational rockband called 'Horizon'.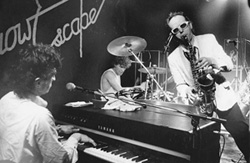 1982: he meets the singer/pianist Clemens van de Ven. Together with drummer Carl van Hal they form the band Narrow Escape. Narrow Escape made two albums: 'Delivery' and a live album. They still play together to this day.
1987: Hans Meijer introduces Niels to the Legendary Pink Dots, who rented the Klaverland Studio to record the album 'Any Day Now'.
1988: the first of many European tours with the Legendary Pink Dots.
1989: the first of 11 American tours with the Legendary Pink Dots.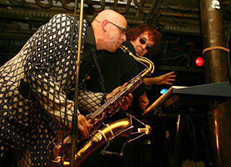 Legendary Pink Dots
The 90's
A lot of Legendary Pink Dots albums and a lot of tours.
1998: starts doing shows with a live Drum and Bass band called Voltage Sound System, and wins the 'Big Prize of The Netherlands'.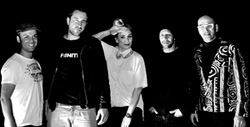 A lot of live performances at different festivals with various artists including singer Kaz Lux and drummer Hans Waterman.
2000's
Recording projects with Tear Garden, a combination of the Legendary Pink Dots and Skinny Puppy.
Meets Mark Spybey, a member of Download, Zoviet France, and D.V.O.A. This collaboration results in the albums 'D.V.O.A. The Happy Submarines' and 'De Klaverland Klompen Voetbal Club'. Both of the albums are about the bizarre adventures at the Independent State of Klaverland.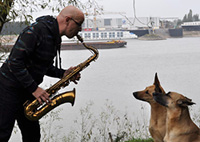 2002: records his solo album 'Colours' together with Ryan Moore, the bassist/drummer for Legendary Pink Dots and Twilight Circus.
2002: a number of recordings with Lydia Lunch and Anubian Lights in the former house of Keith Moon in Los Angeles.
2004: Niels is approached by the awesome Richard van Kruysdijk to do a remix from one of the tracks off the album 'Colours' for his label, Music for Speakers.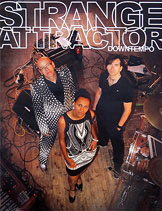 They start collaborating more and end up forming the band Strange Attractor. Together they record 3 albums and an EP together with David J. (Bauhaus), Chris Christopherson (Coil), Graham Lewis (Wire), Richard Sinclair (Caravan / Camel), Winston Tong, Blane Reininger (Tuxedemoon), Edward Kaspel (LPD) en Jarboe (Swans).
2009: CD recording with improvisational band Szense in the Klaverland Studio. He quits the Legendary Pink Dots after 21 years together.
2010: CD recording with Grey Lagoon in Rome.
2013 to present: Niels is currently the saxophone player in the fabulous street band, Rolling Beat Machine. Guest appearances; solo performances, recently at the Valkhof Museum in Nijmegen.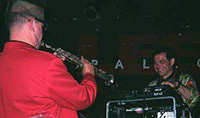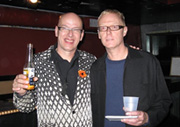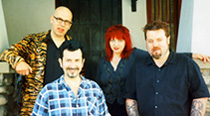 foto's v.l.n.r. Mark Spybey, David J, Lydia Lunch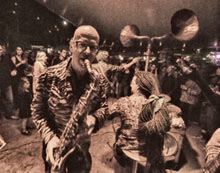 Rolling Beat Machine